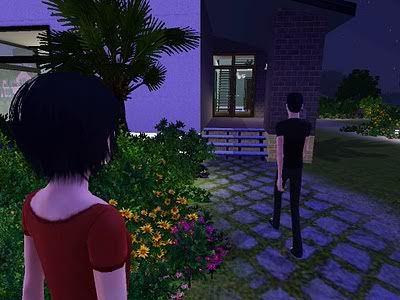 Thursday 4:40 a.m
Jake told Nari he would only discuss things further in a safer location. He claimed it was a sensitive matter and he didn't want to take any chances of eavesdroppers or anything similar. They drove out to the outskirts of town, pretty much to an isolated house. It was a very modern home, not the location she expected,but then again she didn't know what to expect in the first place.
"Here we are..." Jake said as they both approached the glass doors. It was also the first thing Jake said since they left from Darrell's place. Nari didn't have much to say to him either. She spent too much time worrying about what she may be getting into.
She remained silent even as he opened the door and held it for her and invited her inside. She just had a odd feeling about all of this. Not that it was particularly dangerous, she did believe he wanted her help but..
"Please, have a seat make yourself comfortable." Jake said warmly as she nodded and moved over to the small dining table across the room. "I'm going to let the others explain it to you." Jake said before disappearing instantly giving Nari no chance at rebuttal.
Nari stared off into space as she sunk into the chair. She had so many questions that needed to be answered, hopefully this trip would answer some. She released a heavy sigh as her foot tapped quietly against the smooth wooden floor. Soon her foot wasn't the only one tapping against the wooden surface, she could hear someone from behind her approaching. She straightened her posture and let out another sigh, she took a glimpse back to see who it was...
Nari stiffened. Not because she knew this vampire, but because of her appearance. The unnatural pale skin, the glowing eyes, this was usually the look of a Vampire that has not fed for long. Unable to blend in with society, making it even more difficult to hunt. A few more weeks...a month even before completely freezing, dying a cruel second death.
"I've heard a lot about you!" The woman's sultry smooth voice purred out as she took her seat next to Nari's.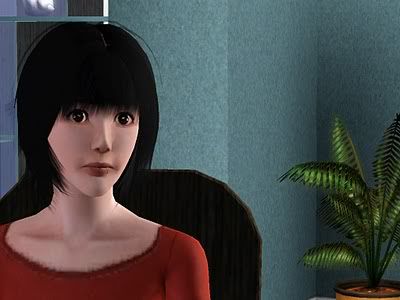 Nari was left speechless for nearly a minute as she watched the woman take a seat. "Ummm...are you....OK?" she asked carefully, trying her best not to seem rude or even a bit frightened. Vampires in this state were usually very unstable.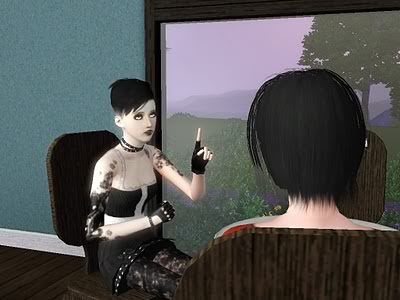 "Ah! That is usually the case. I don't do the whole disguise thing unless I need to." she explained comforting Nari only for a bit. It really didn't make sense, the disguise thing wasn't really a choice. It meant you were well fed, it meant you were strong. It wasn't something you just turned on and off.
"Explain." Nari said a bit demanding, although she didn't want to seem demanding. She was genuinely curious.
"It will all be explained to you, should you accept our offer of course." the woman smirked.
"Okay, just tell me what's going on. Either way I will find out your secret one way or another. You know that, Jake knows that. That is why I'm here." Nari said with moxie, she had guessed that is why anyone ever needed her. She was the perfect example of the saying 'Knowledge is Power'
"Alright." the woman responded, disregarding Nari's boasting "My name is Lilian, last name is unimportant. None of us in Mongoose have a last name." Nari nodded, this was information she knew. Although it was never confirmed, she also guessed they changed their names often although that was truly a guess.
"Go on."
"Of course." Lilian smiled.
"We are not a large group, everyone thinks that. There is five of us." This information shocked Nari, although her body language did not show it. She always thought of it as almost an army of Vampires created by the Elders. "We are just, I do not mean to brag-actually I intend to." Lilian laughed before continuing. "We are all very skilled at what we do. We are predators of the predators. Each of us." she said this grimly, the real meaning of what she said went over Nari's head. "Which is the reason we are known as Mongoose."
"I'm not looking for a history lesson...Lilian." Nari said a bit impatiently as Lilian chuckled in response.
"Oh of course not. You, like many others may think we only exist to do the Elders bidding. That's not true, well it sorta is. That's another story for another day, the point is, they want us dead. All of them."
"The Elders?" Nari asked, not really surprised. The Elders were all about power, and if there was a threat to that power it had to be eliminated. Even if it was something they created, even if it was themselves. The Elders were always squabbling behind each others backs, trying to get rid of each other secretly.
"Yes." Lilian said simply and stared at Nari.
"No." Nari said understanding what was being asked of her. To go against the Elders? To kill them? "I can suggest what you should do." Nari said sternly. The best way to deal with the Elders were to not deal with them at all.
"Really?" Lilian asked interested in any advice she would give.
"Disband your group and go solo, therefore you are no longer a threat to their power. They are worried of you collecting stronger Vampires and rebelling against them, adding me to your group only makes things worse."
"You've went against them before and won." Lilian stated and Nari just shook her head.
"I did not win, I gave them a good reason why I should continue living and they accepted that reason."
"Yes but still-"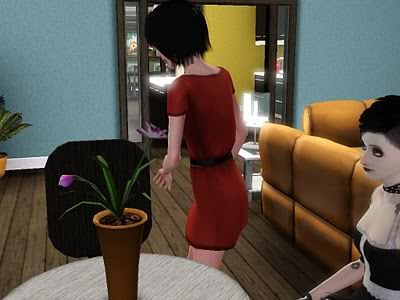 Nari didn't want to hear it, as far as she was concerned this was a suicide mission. "Don't waste your time, my goal is to live another one hundred years." she hopped out of her seat and pushed the chair in. Lilian didn't say anything as Nari head towards the door.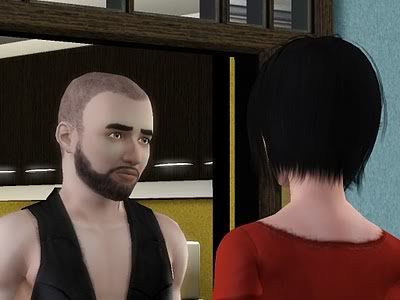 Before she could get too close to the exit another Vampire was blocking her escape. Another pale one, another 'wild' one. 'Something isn't right.' Nari thought. She was willing to accept a rare case of one of them but another? Also they both were calm, cool, and seemed to enjoy their current state. This was something they did by choice she guessed,
"Ain't goin' anywhere honey." this one had a heavy southern accent and a rough voice. His attire screamed 'Biker' but he had no tattoos she could see "You either gonna help or you gonna die. That'd a really be ashamed if you choosin the latter."
***
Wednesday 7:05 a.m
Hollie stood awkwardly on the kitchen floor, not sure of what to say or how to say it. She was able to call Carolyn's mother and talked to her briefly over the phone about her daughters sudden disappearance. Everyone else thought she was being paranoid, but something was terribly wrong she knew it! The police even said they would have to wait a bit longer to file a missing person, even if she happened to be famous.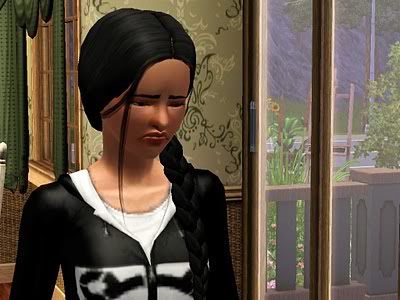 "I'm sorry Mrs.Winters, if I could have prevent-" Hollie said in gloom.
"It's okay dear, I'm sure Carolyn is just fine!" she said convinced. Although it did not make things better for Hollie, sometimes she felt like she was psychic...and sometimes she felt like she just knew things were going wrong. Mrs Winters turned to her with freshly made pancakes, Hollie just shook her head. She was not in the mood for eating. "How can you find anyone on a hungry stomach?" she asked with a sweet smile that almost swayed Hollie's mind but Hollie shook her head again and sighed. Mrs.Winters walked over to the kitchen counter and placed the fresh meal on a vacant spot. "If you change your mind, it is there for you." she said as she head out of the house.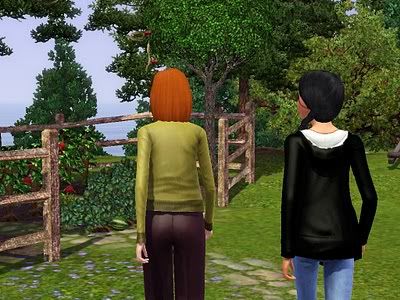 "Mrs.Winters!" Hollie followed. "Bu...You don't seem too worried about Carolyn." Hollie only imagined what her parents would do if she herself went missing. She knew though that Carolyn and her mother had lost so much, it almost seemed like their family were cursed, only Carolyn and her mother remained. Every one else passed away at a early age, Carolyn never talked to her about it. Honestly Hollie didn't want to bring it up, it all sounded so tragic.
Jamie Winters just casually moved over to her garden, she gently took a bright red apple in her palm and observed it. "I do care deeply about Carolyn...it's just that there is nothing we can do." she said this grimly, almost as if accepting the worst.
"You can't say that!"
"If anyone has seen her you will hear about it." The older woman shrugged as she tugged on the apple she held and plucked it from it's branch. "You just have to be patient." Mrs.Winters wiped the apple on her shirt. "Can you help me with that one since you are here?" she pointed to the bush left of her and Hollie took a step closer to it and reluctantly began to help.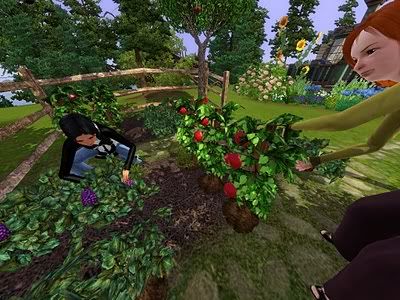 "You're daughter-my friend is in deep trouble." Hollie mumbled as she held a batch of grapes and gently tugged on them.
"Why do you say that?" Mrs.Winters at least now sounded a bit concerned.
"Because!" Hollie rushed out, without even having a reason. "Because..." she said quietly again as she began to think. 'Because she just is!' she screamed to herself. It was just a premonition she had.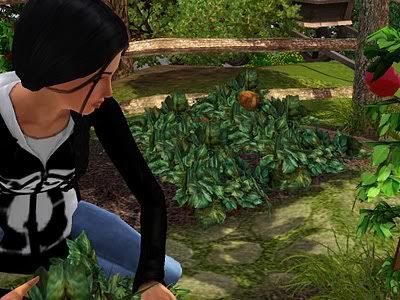 She paused as she looked at a blank area. The soil was moist as the sunlight beamed on the spot her eyes focused on. She just stared at the spot as if she were expecting something to happen.
"Something wrong dear?" Mrs.Winters asked and Hollie nodded her head.
"Yeah, be careful there is a spider.." right at that moment she finally found it. It was a small spider, the sunlight revealed it to be black with a-
"Mrs.Winters watch out! It's a black widow!" Hollie shouted as she jumped up and reflexively blindly brushed herself off.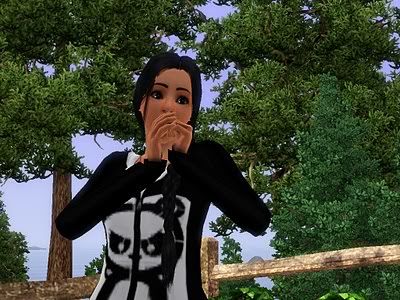 Hollie gasped as she realized her warning was too late, the little being had crawled its way off of a leaf and now it was on Carolyn's mother bare finger. Hollie remained still, not sure what to do or what to say. She was aware of how venomous a black widow spider was, and she didn't want to scare Mrs.Winters by making some careless gesture which would then scare the spider. Much of her fear was was washed away though because when Mrs.Winters realized she had the small animal on her she jumped and brushed it off instantly and it now scampered around on the soil.
"It's alright." Mrs.Winters said calmly, it didn't affect her as much as it did Hollie who still looked shaken from the close call. "They are more afraid of you than you are of them." She gave Hollie a reassuring wink and a bright smile to which Hollie just shook her head again.
***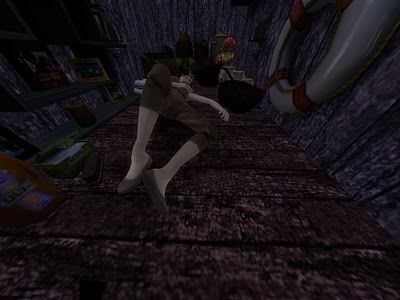 Wednesday 7:00 p.m
Carolyn rolled and shuffled her position on the filthy floor, she moaned in pain while she lay in the darkness. Confused. That was the word that best described her situation. Where am I? How did I get here? What is going on? Why? were questions she asked herself countless times in a unconscious state. She was dreaming...more like having nightmares. Yet she could feel everything, it all felt so real. She could have sworn she took a trip to hell.
Her eyes burst open. She looked around frantically, just happy to be awake, happy to escape from the nightmare world she was just in. "It was just a dream..." she said to herself as she begin to stand up.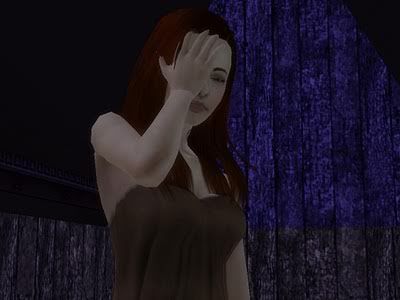 "Uuuughhh..." she groaned as she pulled herself up, knocking some things over in the process as she found herself in a cramp dark space. That wasn't the worst part about it, the worst part about it was the pain her body was in. Every vein twitched with a aching sensation, which meant every millimeter of her body was prisoner to this new pain. That wasn't even the worst part about it, it was the pain in the middle of her chest. She could only guess it was heart pain, but it felt more like someone had impaled her. This all added to her confusion, it made it impossible for her to do any critical thinking. "Gotta, get outta here..." she said simply. Maybe it was the room? Maybe she was still dreaming?
Carolyn put one foot forward and could feel the weight of each step she took after that. Her body felt like stone, it felt like she weighed tons now and she could barely wiggle her toes or fingers. Everything was stiff. She managed to escape the attic-esque room and lagged her way down a old creaky staircase. The question of whose place is this did not cross her mind, she just felt....thirsty. Maybe it was the fact that her mouth was dry, and it hurt to even move he jaw. Her tongue had no moisture to it, and it became difficult to move also. Even more so than her fingers and toes. It felt like a rock was stuck in her mouth, and she wasn't even sure she was breathing...was she choking? Gasping for air? She did not know exactly but it was a horrible feeling.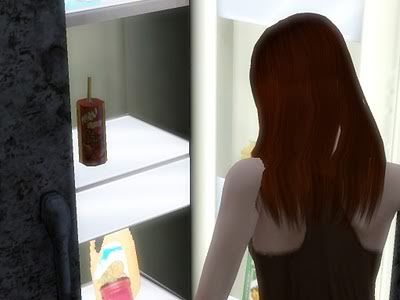 "Yes a drink..." she said to herself as she made her way to an old rusty refrigerator. Every object in the house was dirty, mangy, and looked like it hadn't been touched in years. Yet here was the fridge, lighting up the dim room as she opened it and her eyes centered on the drink briefly before she snatched it and ran to take a seat at the table behind her.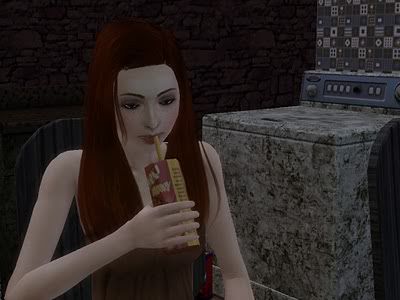 She wrapped her cracked lips around the straw and took a sip...took another sip...and she discovered this was not helping her situation. As the liquid filled her mouth it would uselessly wash down her throat, and her mouth would remain dry. Almost like it was water proof or something. She grunted as she jumped out of her chair and attempted to toss the full cup across the room in frustration. She was surprised that it did not make it far, it landed only a few feet from her. She never was strong but she didn't remember being this weak either.
She instantly looked back to the fridge, confident it was hiding the treasure she needed. She could almost sense it now. She was thirsty, but it was the wrong drink. The door swung open and she grabbed the red cup swiftly and scurried back to the seat.
It took no time before she took her first sip. She watched as the red liquid filled the transparent straw and trickled onto her tongue. The moment it teased her taste buds, they sprung to life. The liquid had the taste of pure bliss, it relaxed her. It would flow down her throat and share it's glory throughout her body. This was more than satisfying her thirst, it filled every need and washed away her pain. Not only did she feel better, but she felt better than she could ever remember. She needed more. The cup emptied quick to her frustration and she instantly was getting back up and heading to the fridge again.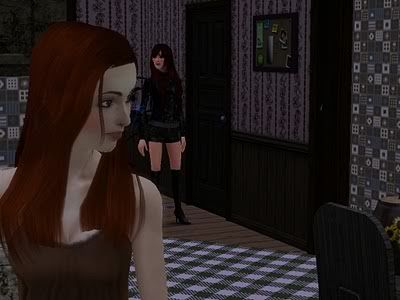 She noticed she had a visitor, she took a quick glance at her before opening the fridge again to get another drink.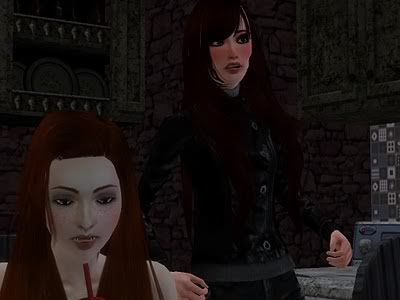 Alice looked down at her as she indulged herself on her emergency drinks. "Ummm..." she said standing behind her, but she could vaguely remember the feeling of being new. "You do know what you are drinking right?" she asked and Carolyn shrugged. It didn't matter to her, whatever it was it was all she needed. It didn't really matter. "You should at least know." Alice reminded her, but she knew at this state Carolyn probably didn't even remember who she was herself. She was......transitioning.
"What." Carolyn said bluntly, her anger was poured into that one word. She didn't want to be interrupted from her drink.
"Blood." Alice answered simply and at that moment Carolyn stopped drinking. This was the moment. Alice knew this was the very moment where a Vampire had to make the decision. There was no in between, You either enjoy being a predator or you hate it. Alice couldn't tell what Carolyn had thought of it, the young woman just paused, swirling the cup in her hand casually. Finally she placed the straw back between her lips and finished off the drink.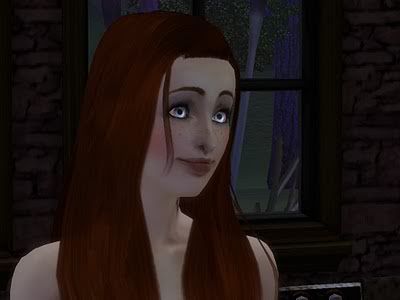 "It...it wasn't that bad."Alice smiled at her, realizing that she couldn't even remember that she had a hole in her neck about a day ago.
A/N: BOOYA! So Carolyn is a newbie Vamp! Of course this was planned all along, even thought about starting the story like this! How did this happen!?!?! Don't worry it will be revealed soon enough mwahahahahahahahahahahahhahahahahaha- :P.