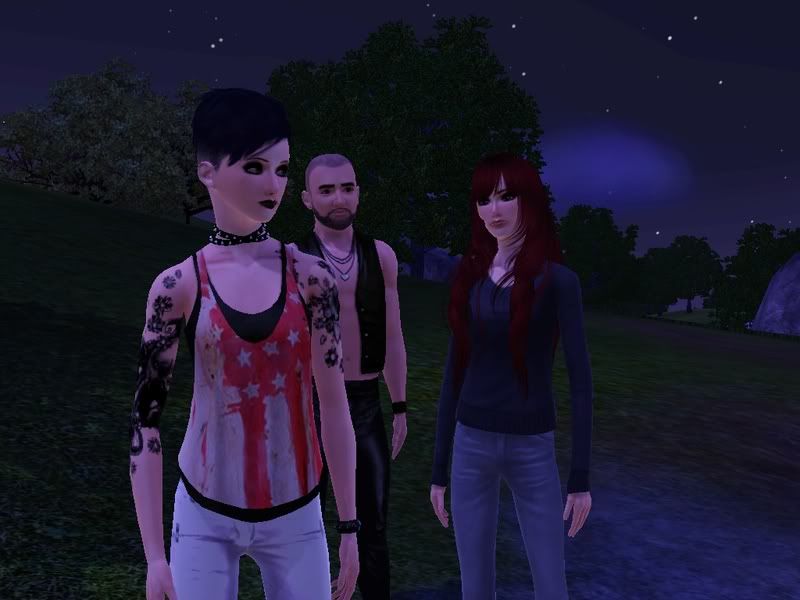 "So recently turned, they may wake any moment now. Sebastian was definitely here" Alice said, she was the only one who had experience in turning. She also knew his scent well and was strong enough to smell traces of him since the attack was so recent.
"We need to move quickly then and worry about getting these bodies off the street before they wake up. Since we made it in time for these two that means we have some time for the others." Lilian said kneeling besides the cold body of Carmella's. Making a closer inspection, she moved the limp woman off of the male and a large gash revealed itself on the right side of her neck. "Sebastian sure wasn't nice about it. Alonzo you take these two back, me and Alice will scout out the other areas." but Alice didn't seem to be paying any attention to the directions Lilian gave.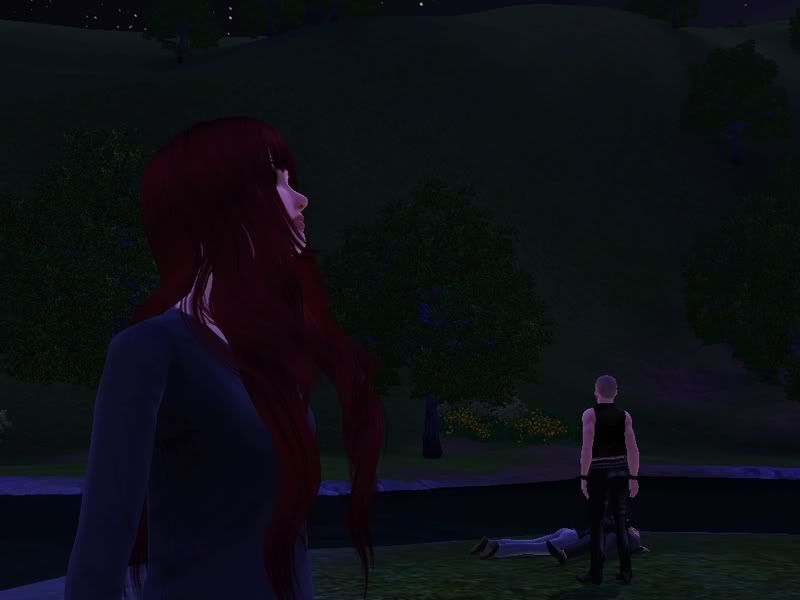 "You go, I'll stay here." Alice said looking off into the distance.
"What if I run into Nourbese? We need to work as a team." Lilian said trying to convince Alice to follow. Alonzo was already following orders, placing both bodies under his arms, carrying their weight as if they didn't have any. With a nod of Lilian's head Alonzo was off, disappearing into the night as Lilian turned back to Alice with a perturbed look on her face. "I'm the leader now Alice, I think it is best if we do this together." but her words did nothing for Alice.
"I'll wait here. Better this way, this is the first spot he'll return." Alice insisted, but in a quiet and calm manner. Lilian didn't want to try to force her and Alice saw Lilian as a friend and didn't want to demean her authority. Lilian could only sigh and give in, she couldn't force Alice to do anything. That was usually the case even with their previous leader.
"Well, just be careful. If you get into trouble stall for time. Also if he doesn't show up in the next hour or so then follow the rest of the trail." Lilian said as she turned to leave, once Alice nodded her head to confirm she also disappeared into the night.
After a handful of minutes Alice was proven right. Sebastian had showed up, and he stood across from Alice. His posture leaked confidence and perhaps because he was not alone.
"She will not help you much in this fight." Alice stated pointing to the woman that trailed him, Nari.
"You're right, she is just tagging along. This will be between me and you." Sebastian said as a smile crept upon Alice's face. Sebastian wanted to wipe her smug look off her face as he sent his body flying through the air hoping to land the first strike.
He does so, the knuckles of his fist landing firmly into her cheek bone! He put a lot of power into his effort and as the bones of his fist crashed into the bones of her face, he could hear hears shatter and crack. Unfortunately for him all it did was knock Alice back, she wobbled for a moment but it seemed that as soon as he shattered her cheek it immediately began to repair itself. Such instantaneous regeneration was only a gift for those who lived thousands of years. Sebastian was in awe as he witnessed her just standing there...still with a smug grin. In fact her smile was mocking him now.
Sebastian growled, allowing her look of scorn get to him. He followed up his surprise flying attack with several others. Fists and feet flying in a flurry towards her which she all dodged and parried with comical ease until finally grabbing one of his fist. Once in her iron grip she crushed it as if it were a slice of bread and then twisted his arm into an uncomfortable position. Sebastian howled in pain as he jerked his arm back which effectively separated his shoulder from the rest of his body. But the pain and separation was only temporary. As he pulled himself away from her and began to stall for time to let his arm began to piece itself together.
"You are much stronger than before." Alice mocked, watching as Sebastian waited for his hand and arm to heal completely. It would take a minute or two, when for Alice it took merely seconds. "Not strong enough thou-"
Alice's words were interrupted as Sebastian charged towards her again, this time attempting to tackle her to the ground. It was time for plan B, which would go into effect as soon as they both realized that Alice was much too strong to handle. Although he was not fully healed, the only thing that mattered was making sure Alice was an easy target. The two Vampires tumbled, each trying to get a edge over the other. Eventually Alice ended up on top, this time she had her hand tightly clenched ready to pound away but even she knew that would do nothing to Sebastian.
"Decapitation always works." her voice twisted as Sebastian struggled to break free from underneath her. He didn't understand how she was able to get stronger at such a fast pace, he was sure all he needed was to regain his former strength and he would outclass her. He was wrong, perhaps dead wrong if Nari didn't follow through on the plan. "I
always
get my target." she said bragging. Sebastian didn't know how Alice planned on decapitating him, the only weapons she had were her bare hands. When she placed her right hand onto his chin and gripped it tightly and the opposite grabbing hold to the back of his head he imagined how she planned to do it. She was going to rip it off with one clean twist and the sadistic smile told him she was going to do it slowly and revel in his pain. Which she did, slowly twisting...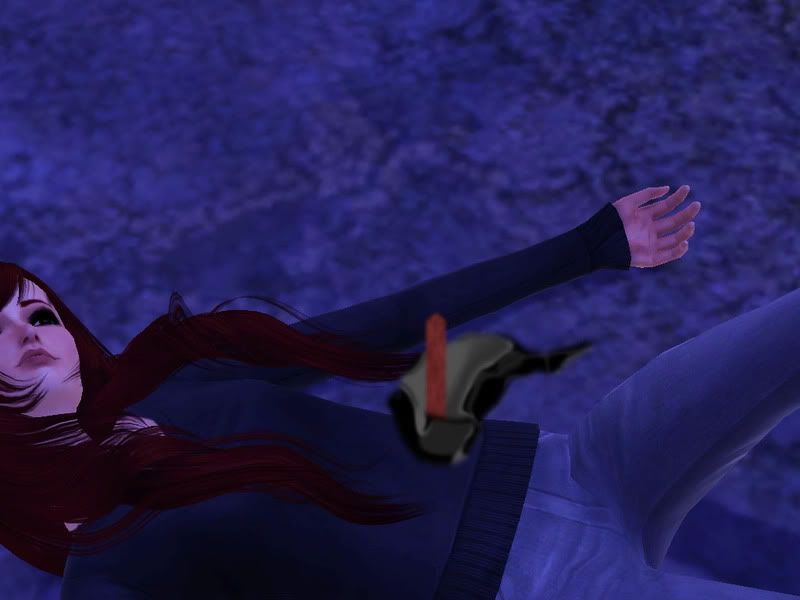 Unknown to her there was a large wooden projectile zipping through the air. By the time she noticed it, it was impaled through her side. Alice freezes with her mouth a gape in shock, awe at how fast Nari must have thrown the stake were her last thoughts. Her body gave way and crumpled on top of Sebastian.
Sebastian pushed her off of him as he began to stand up. She snapped and stretched his own neck, it was close to being over. He looked down at the woman and realized her blood a rich and black substance. Which was not the norm for Vampires and something to ponder with Nari later. "Took you a long time." Sebastian said as Nari made her way over. "Almost lost my head."
"There is a moment where even the best of Vampires are blind, it is always right before the finishing blow." Nari said "The best surprise attacks come when the opponent thinks they've won." Nari said smiling. She was unsure if it would work, but it obviously did. "It is amazing at how powerful she was. We were definitely fortunate this time."
Sebastian shrugged as he began to dust himself off and walk away. "Yeah, the other one is probably going to clean up the rest of the mess I made. We should finish this off in one night. I doubt she is even close to the beast we just defeated." Nari agreed as she moved towards Alice whose body was still lying there impaled, she cocked her head as she also caught the black substance that leaked from Alice. It was clearly blood, but it was black and looked more like oil.
'What is this woman putting into her body?'
Nari contemplated.
"I'll wait till she turns to stone and try to figure out why her blood is black. Could have something to do with her power. You should go ahead, she should be petrifying soon.." Nari choked on her words as the woman began to move. She rubbed her eyes to make sure she was seeing what she was actually seeing. Alice was getting up, slowly but surely she was standing back up. "Impossible." Nari whispered, and although Sebastian was a comfortable distance from her he could hear the word clearly. By the time he returned and he couldn't help but watch also. Alice was standing now, although wobbly she was on her two feet.
Alice wrapped her two hands around the stake which weakened her, but Sebastian wasn't going to sit and watch her pull it out. He threw his body at her recklessly and she clubbed him away sending his body rolling behind as if he were a pest. Somehow she still had plenty of strength left.
"Nari aim for the head!" Sebastian called out as he rose to his feet. But when he looked up he saw that Nari was no longer around..and he also saw the steak tossed to the ground.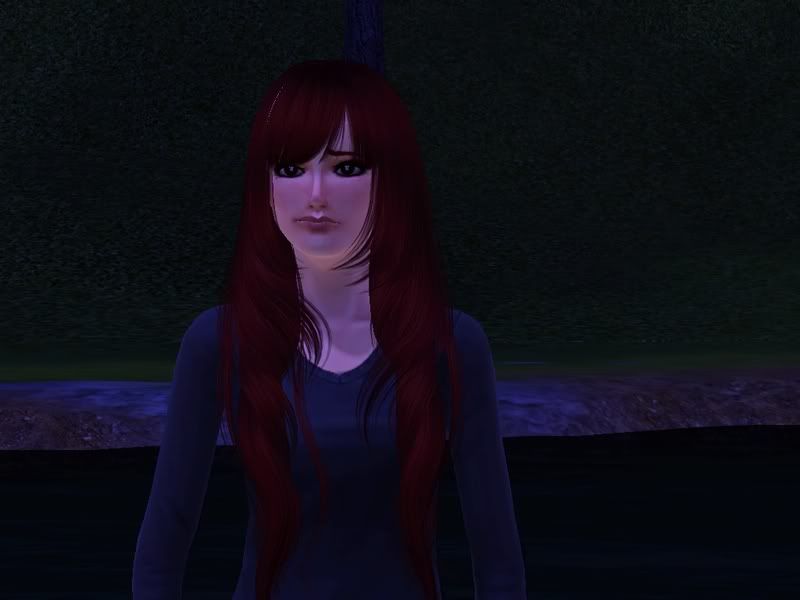 "Nari has always been known for her intelligence." Alice said chuckling. "I wonder what you will be remembered for..." Alice paused and thought about it for a moment before throwing her hands up in frustration. "Ah well! It really doesn't matter!"she shrugged as she moved over to the stake and picked it up. She observed it for a moment and found it's sharp point, then she charged right at Sebastian and going for the kill strike...
Author's note: I hope my 'special effects' were good!